CSC New Registration 2023 - Get ID & Password Instant
You need to pay one time registration fee Rs 979 only for lifetime.
Get paid for providing essential services to your customers – with over 100+ services including banking, bill payments, government, travel, and registration – earn an attractive commission on each transaction by partnering with digital gramin seva.

Now you can open Digital Gramin Seva Kendra without any type of certificate or exam.
CSC New Registration 2023
it is a simple and easy process to open Digital Gramin Seva Kendra
Aadhar Card
Pan Card
Mobile Number
Email Address
Bank Account
NOTE:- 
No Need any type of certificate or exam.
Fill the registration form with correct details
Make the Payment
After payment, you will get ID and Password on your mail within 1 Minute.
Log in your ID and start providing digital services.
Employing all citizens, especially those who are shopkeepers and who live in rural areas
Build an excellent reputation in the digital world and become one of the top digital services providers in India.
If you are looking to work with us do not hesitate to join us.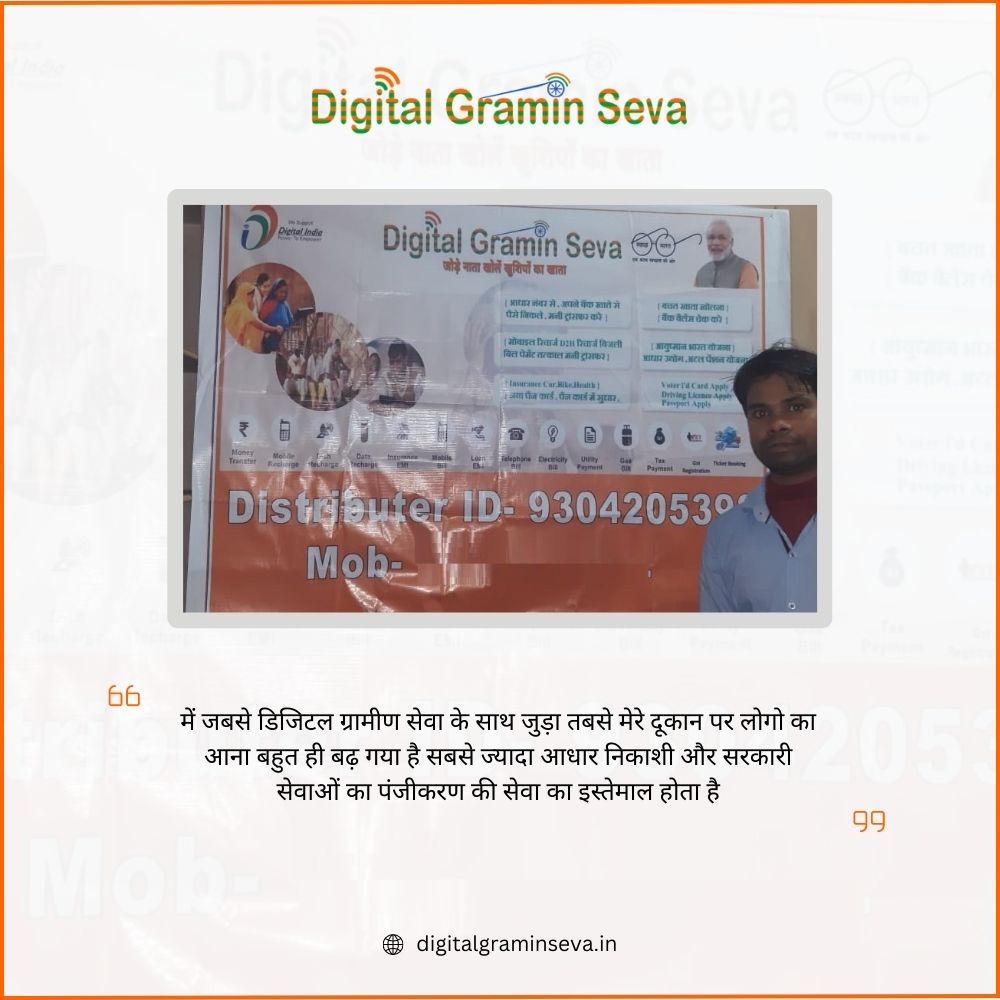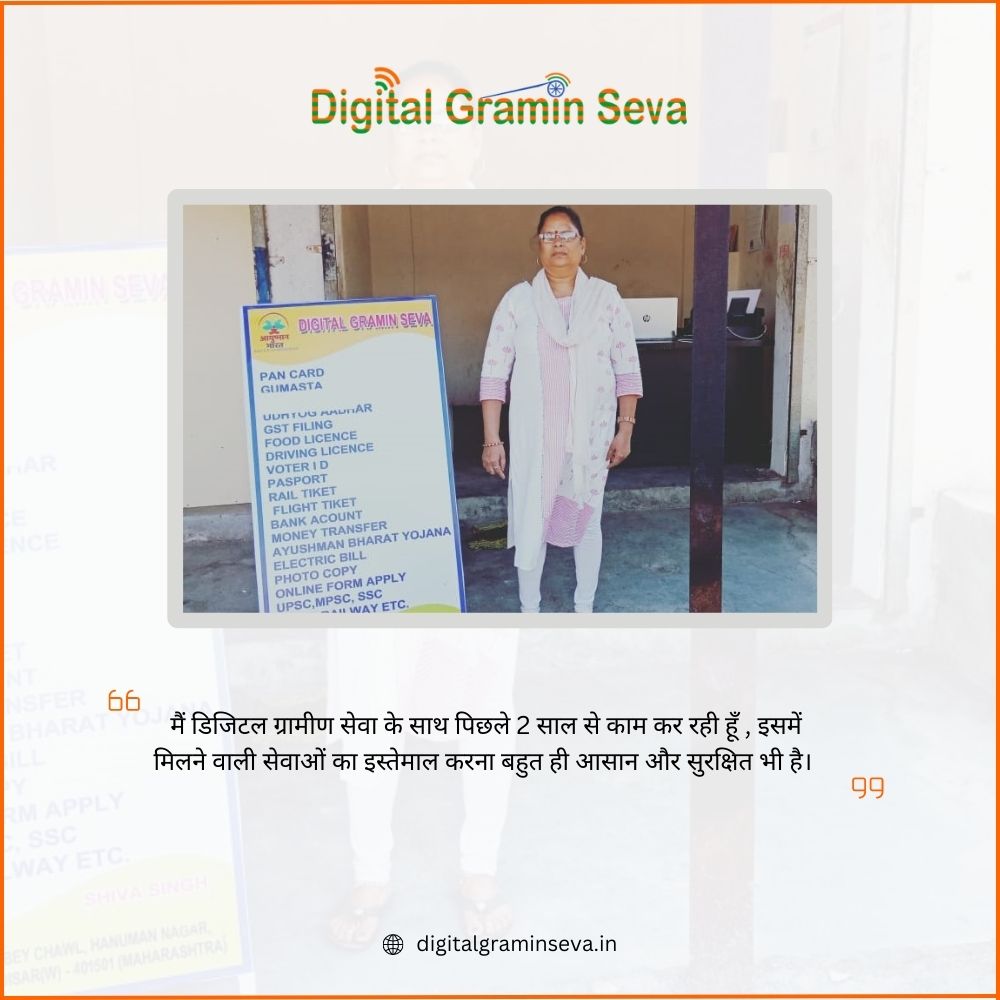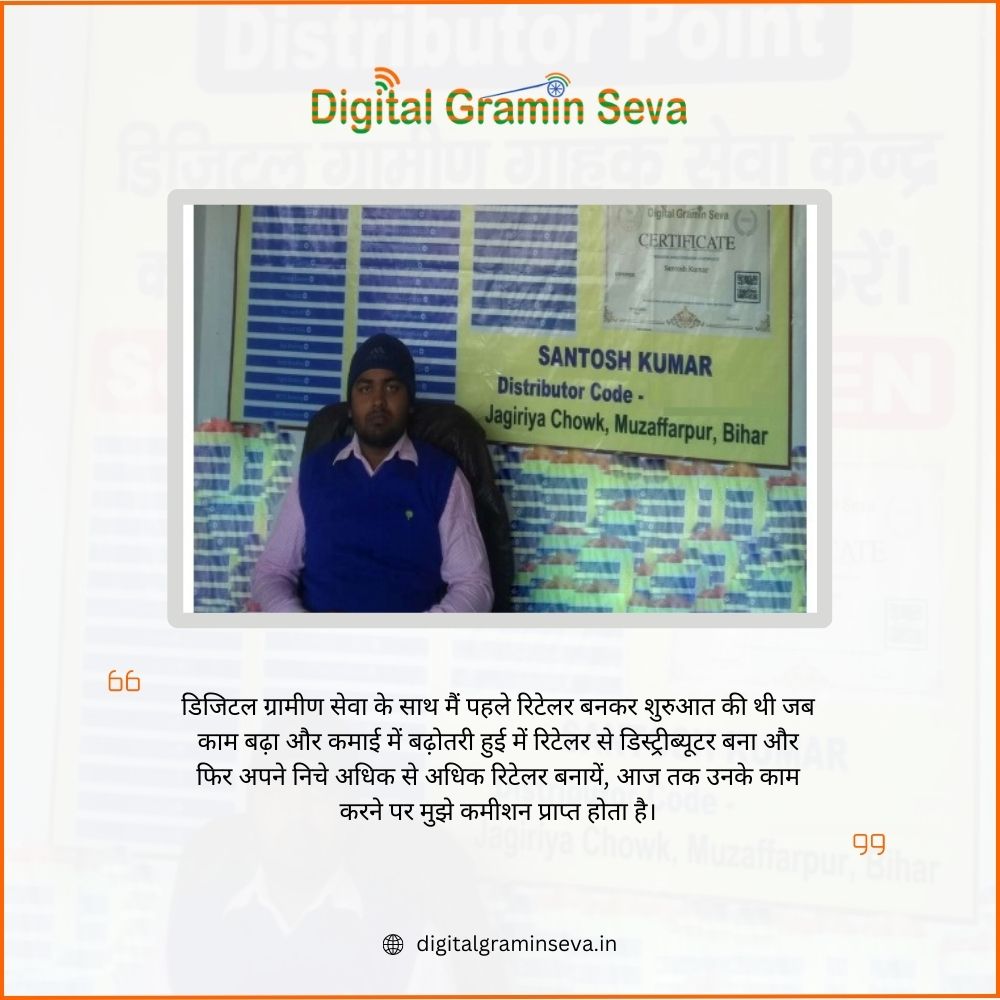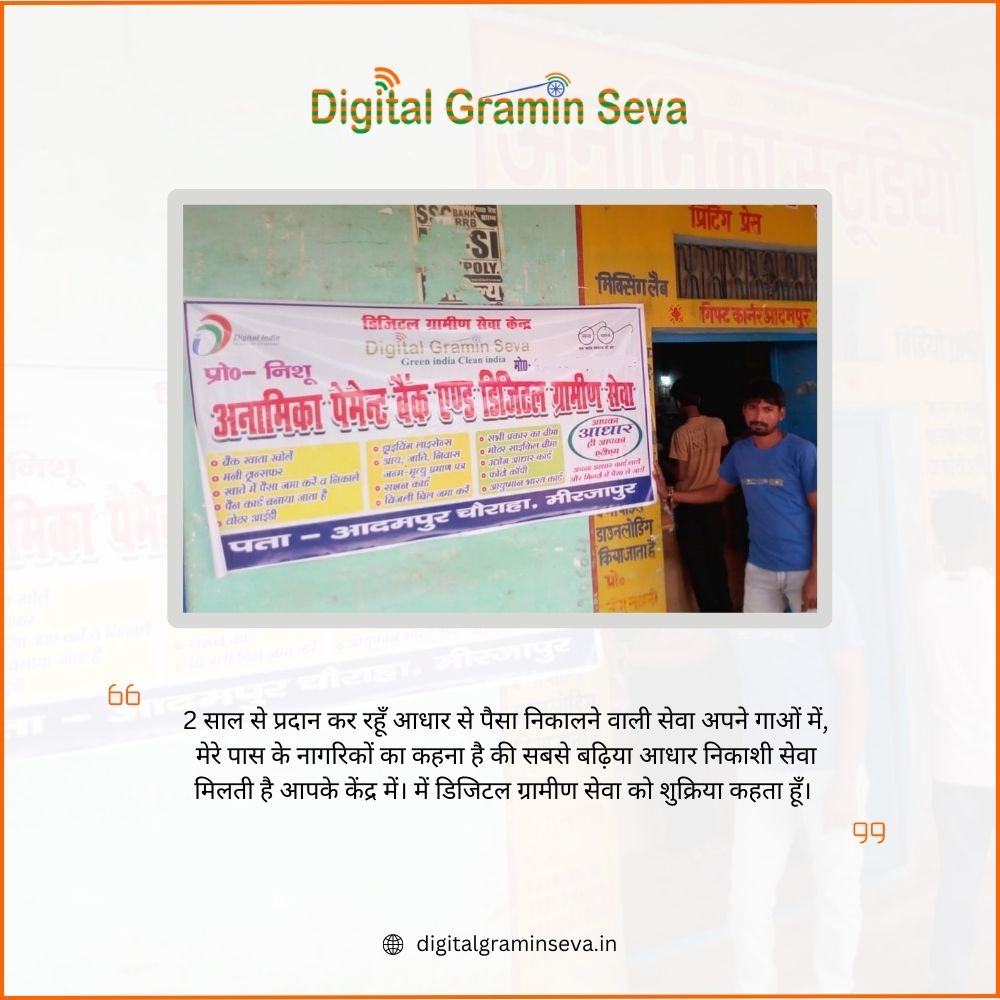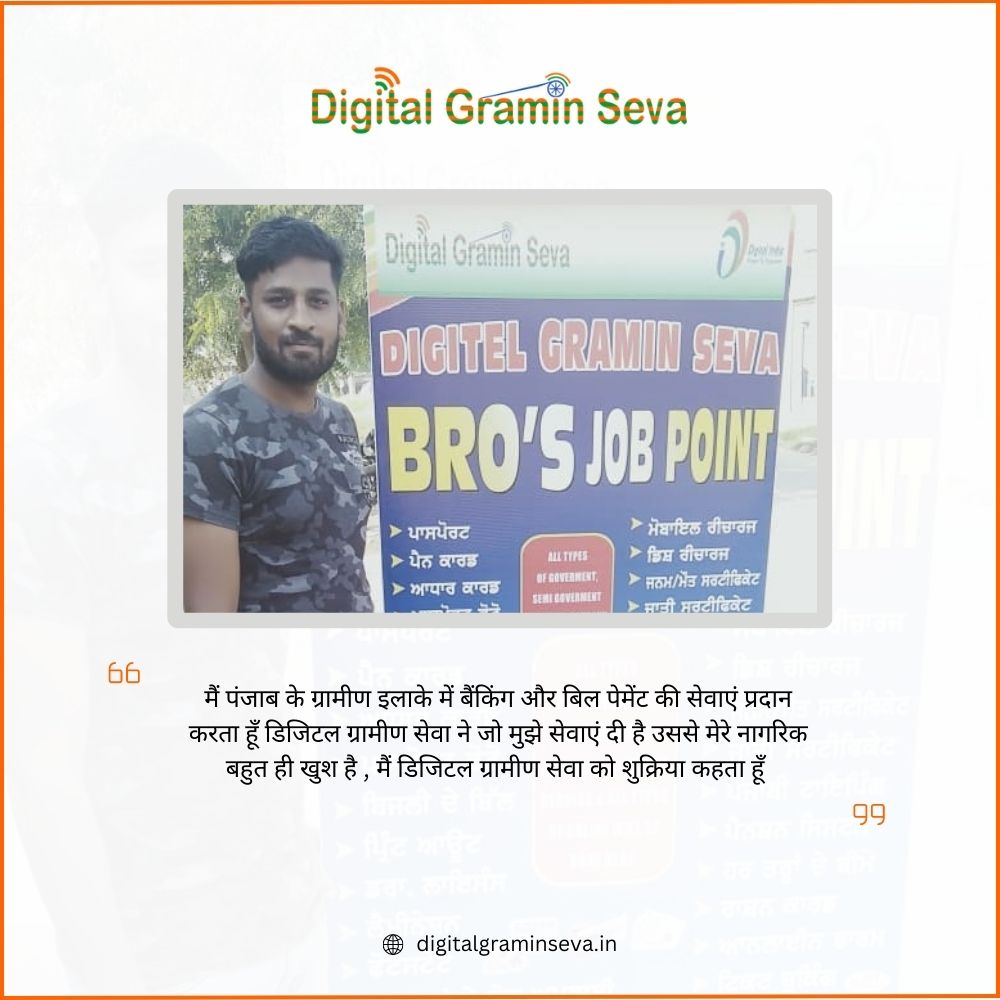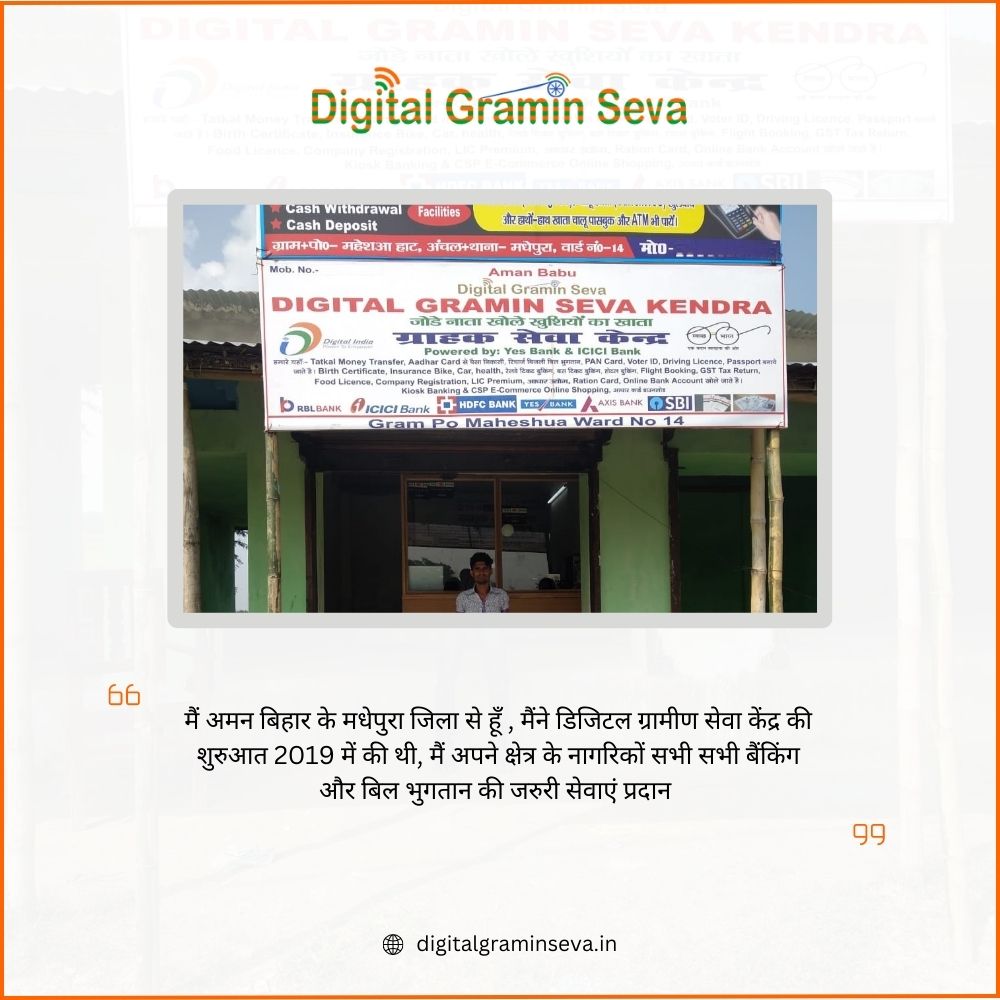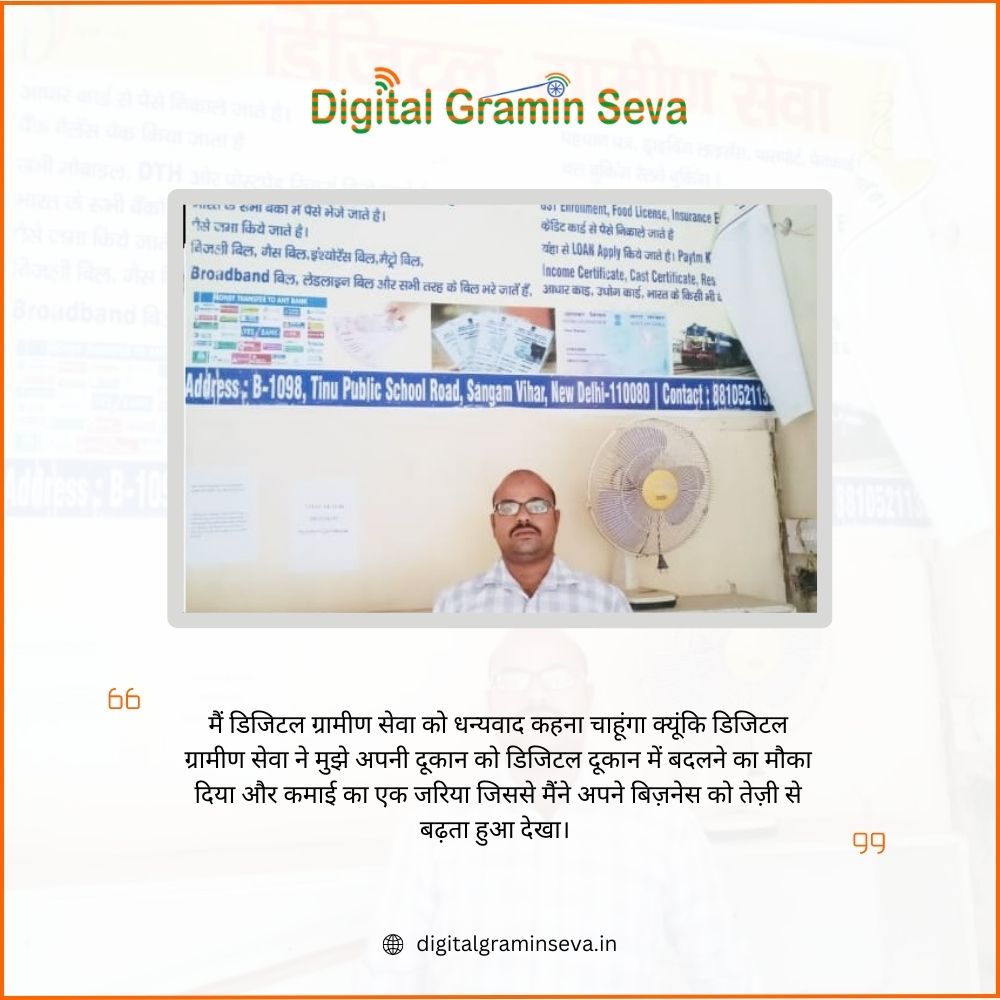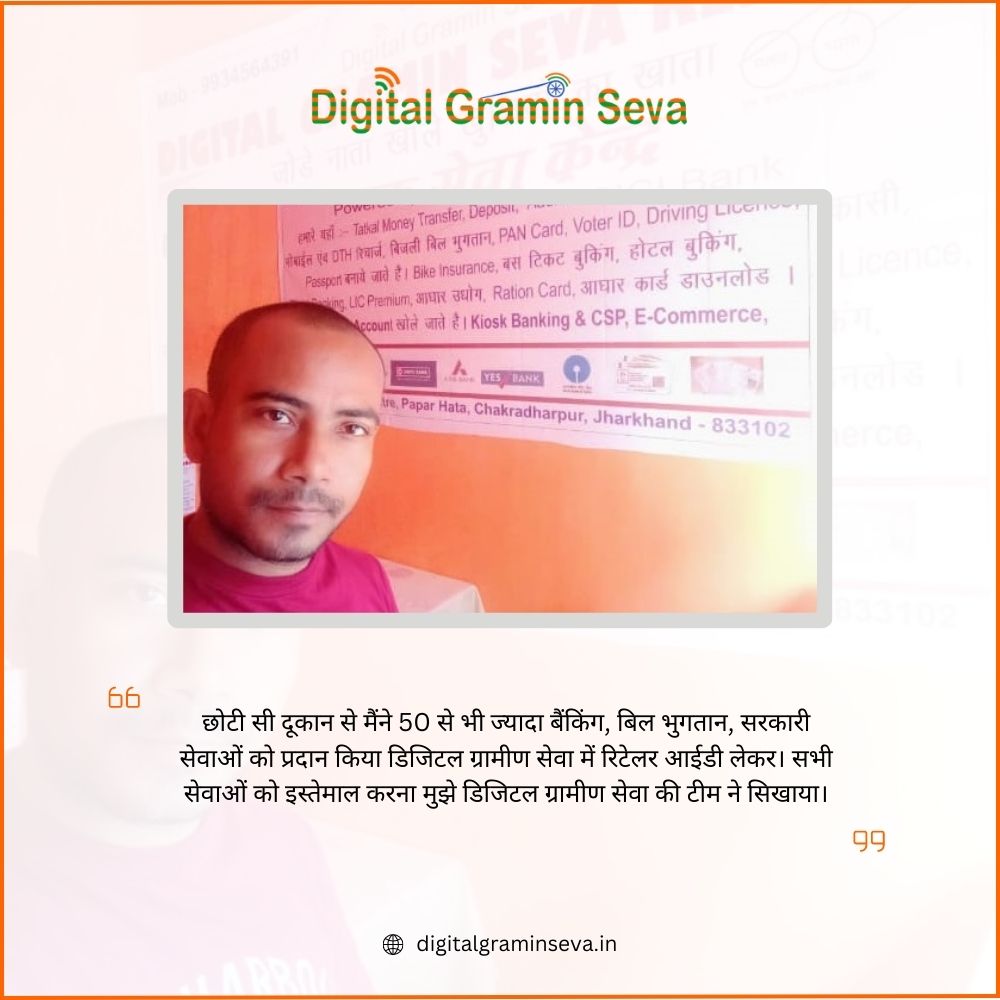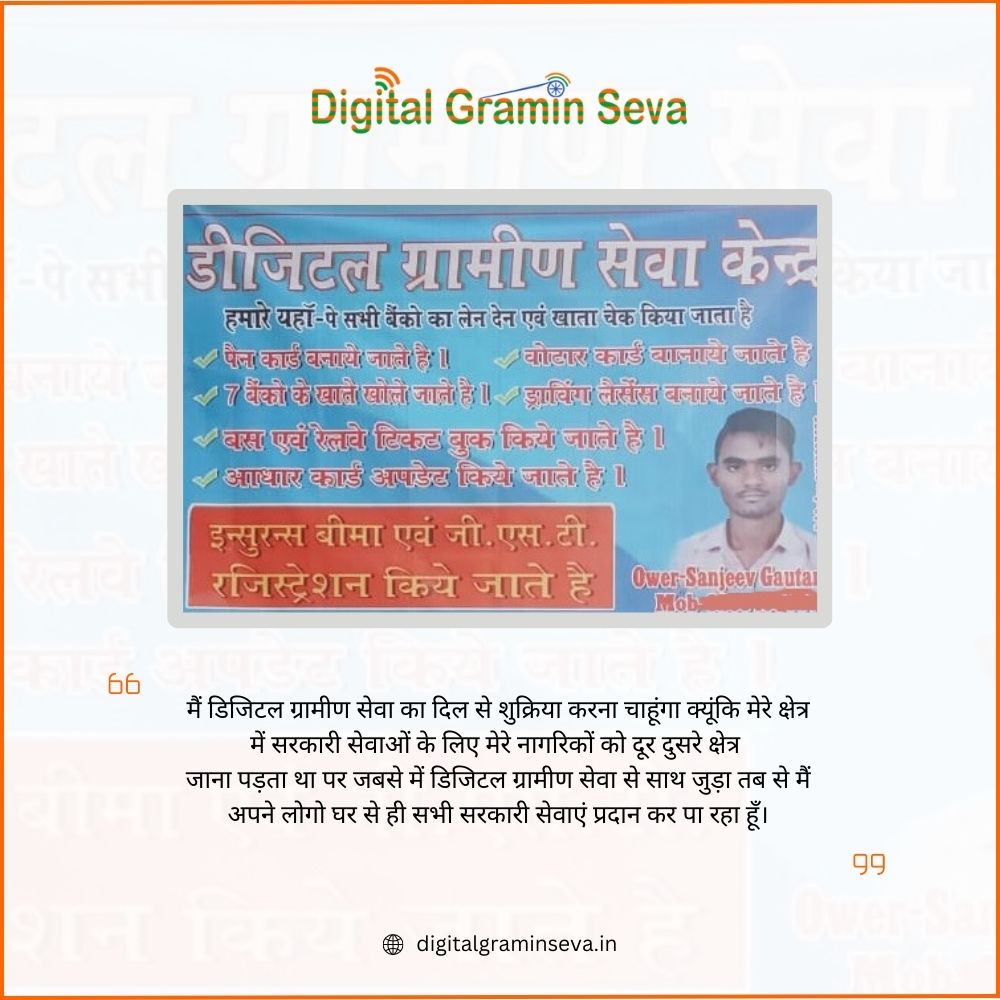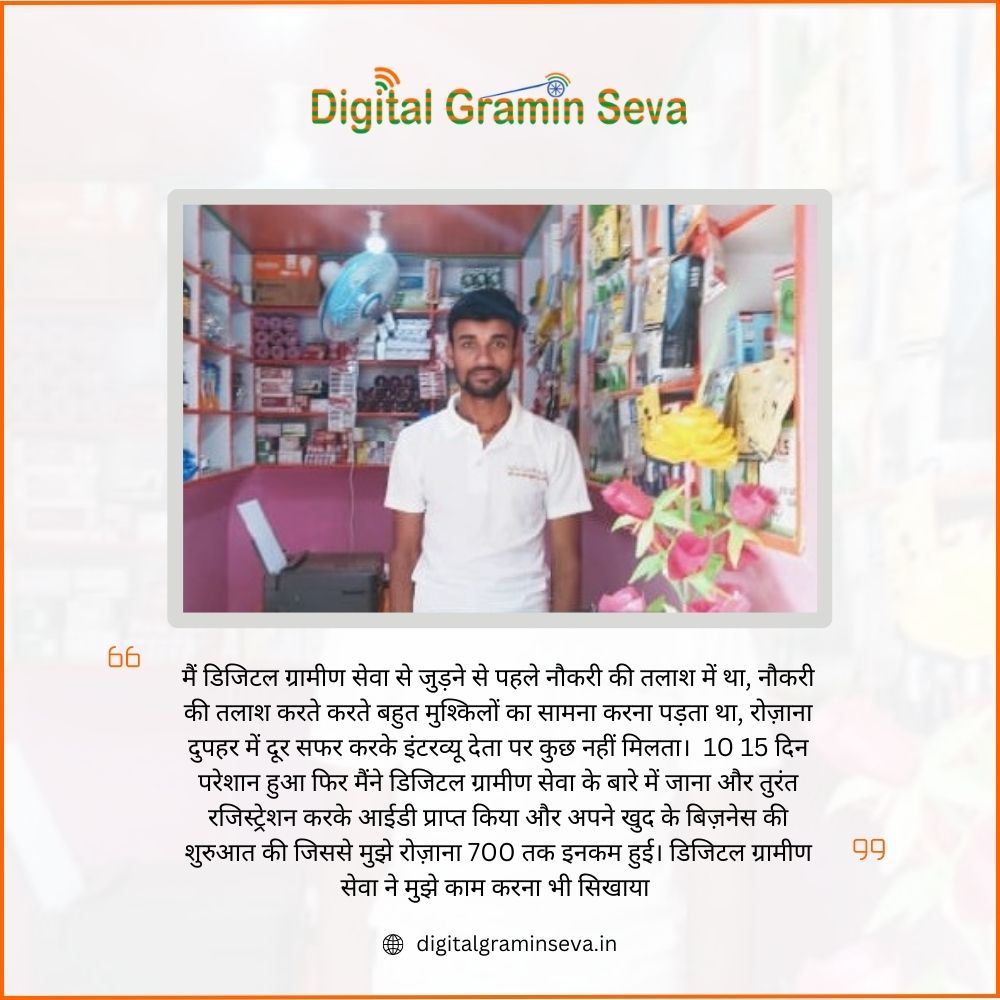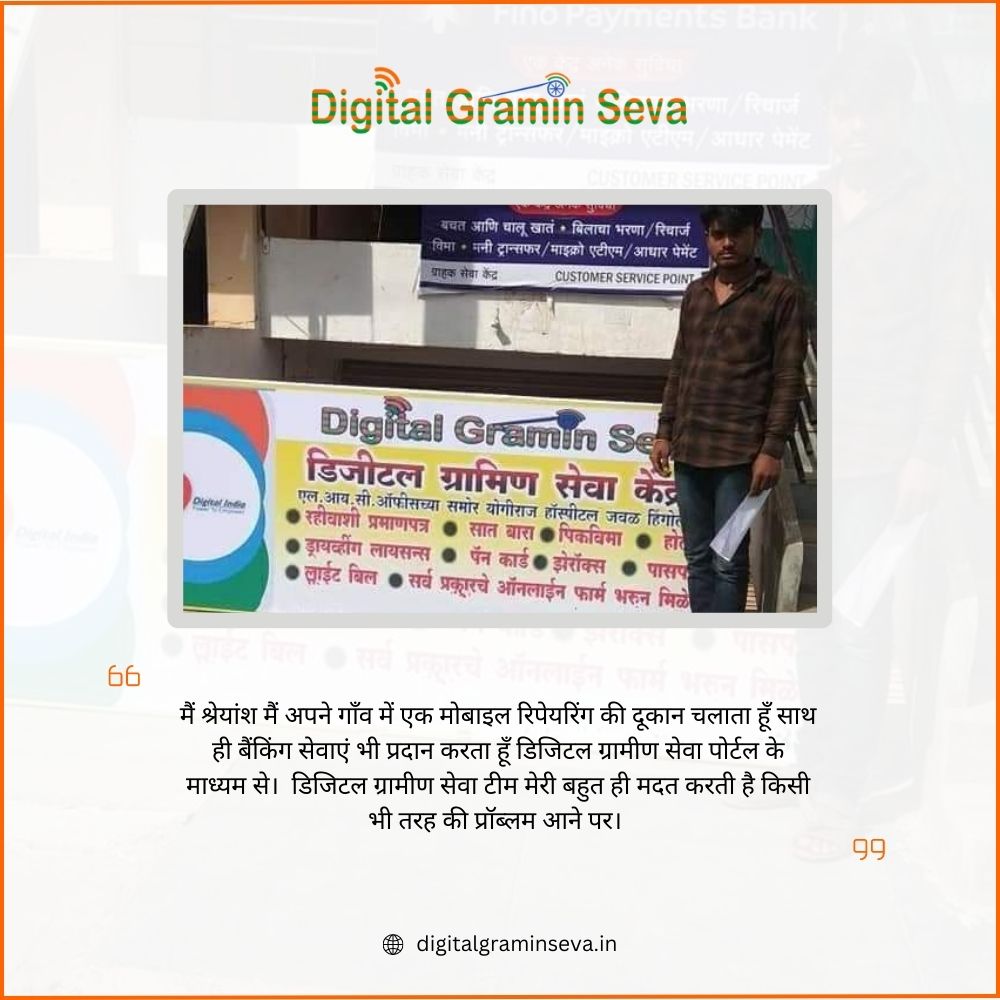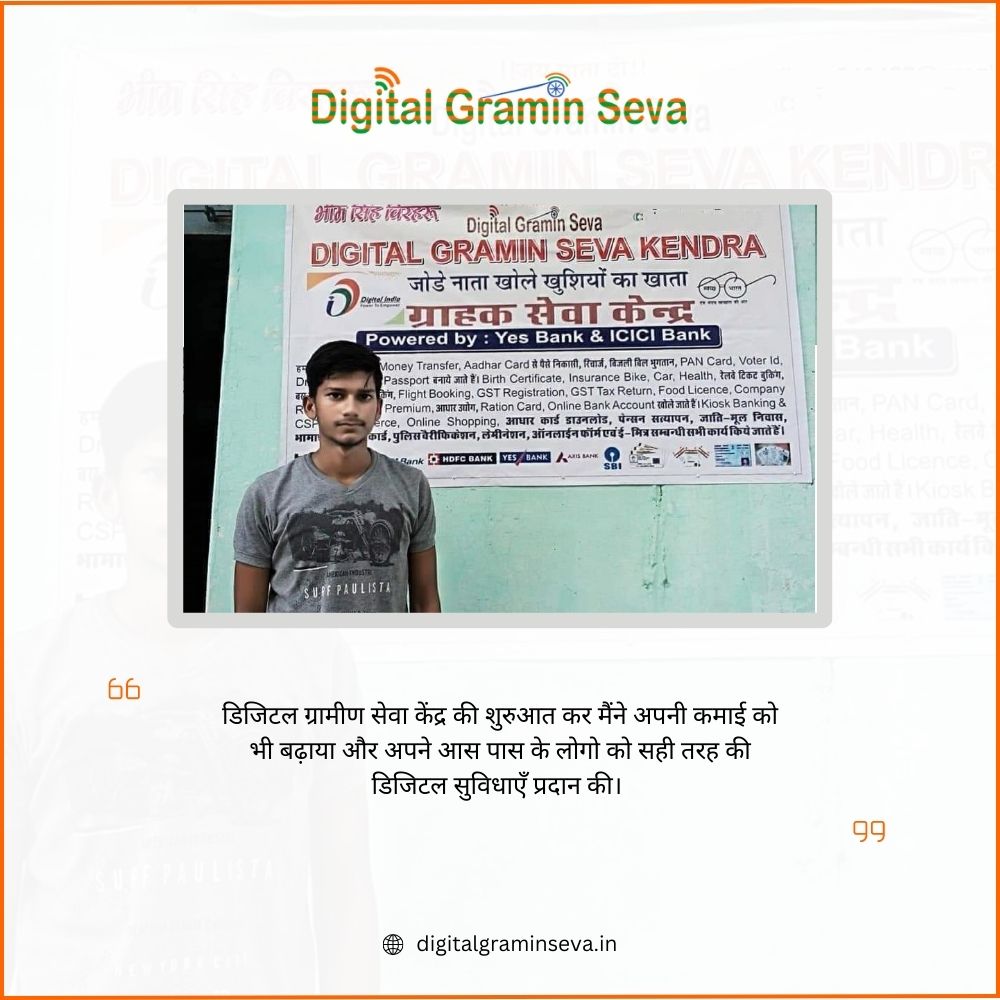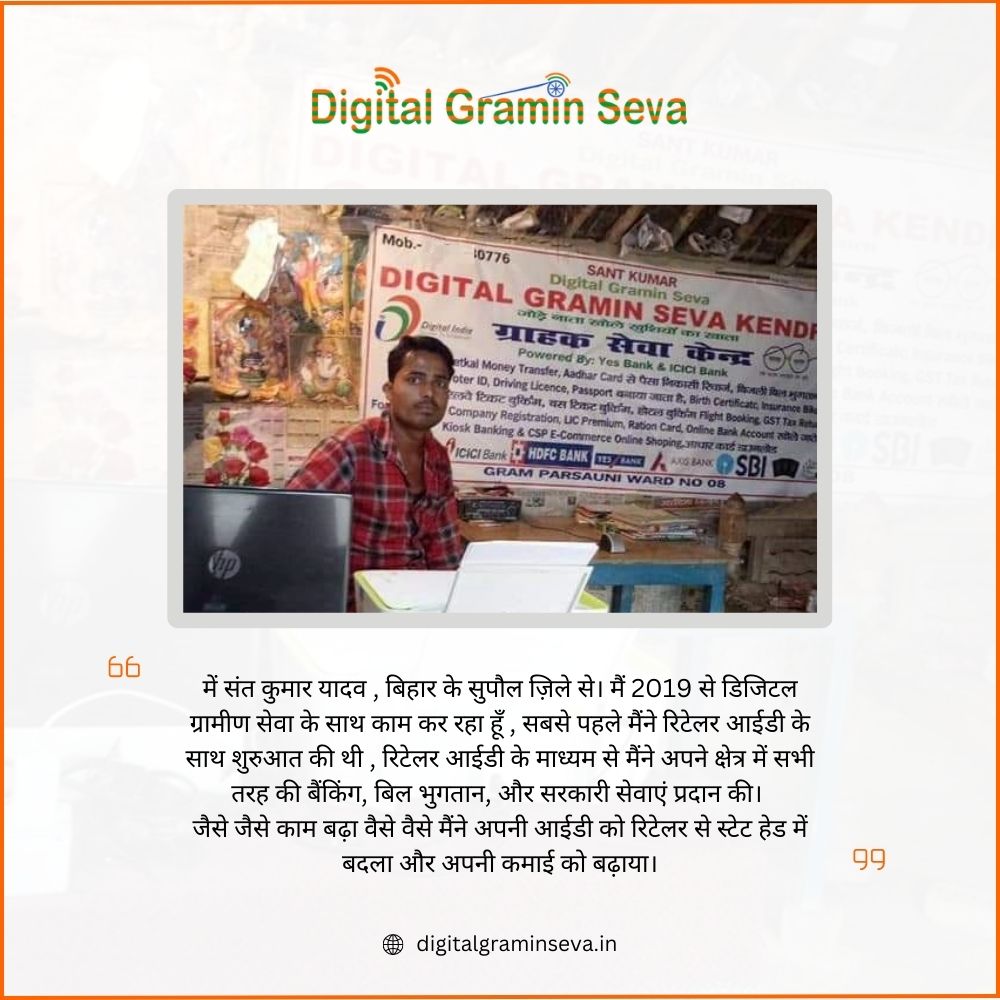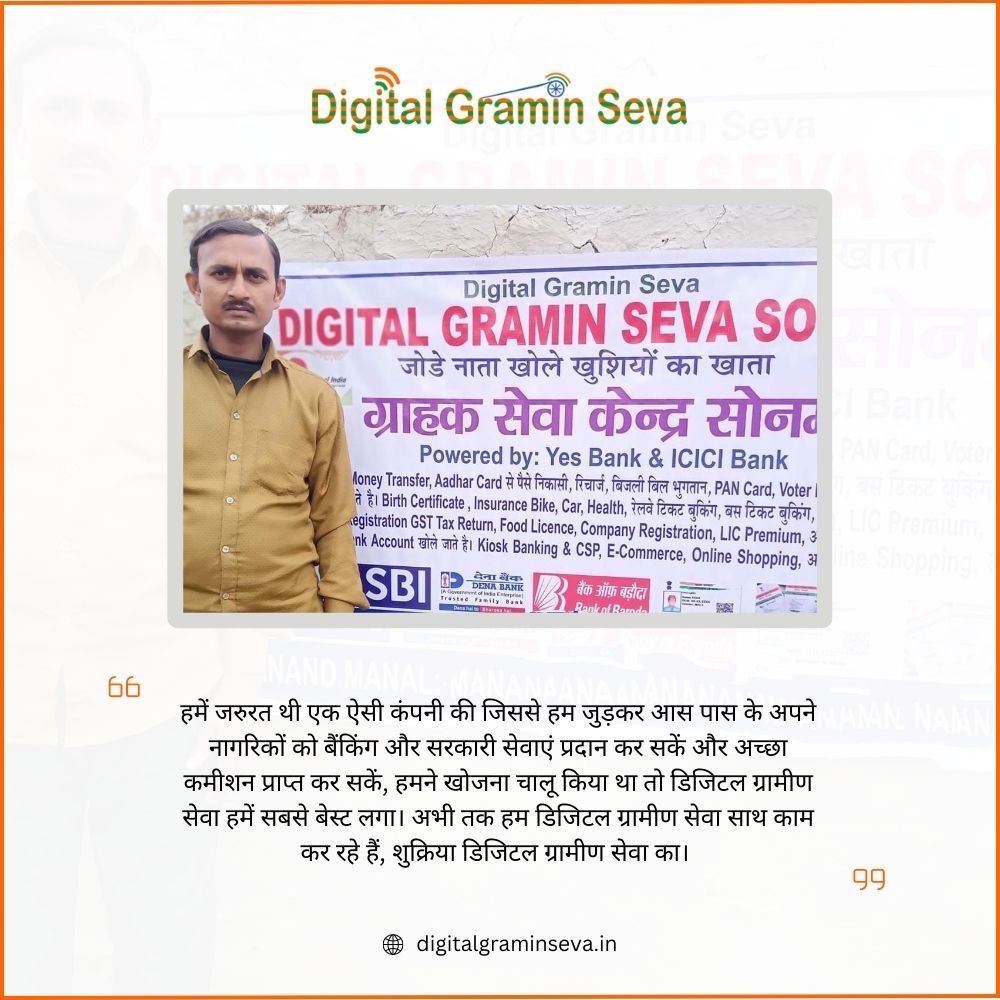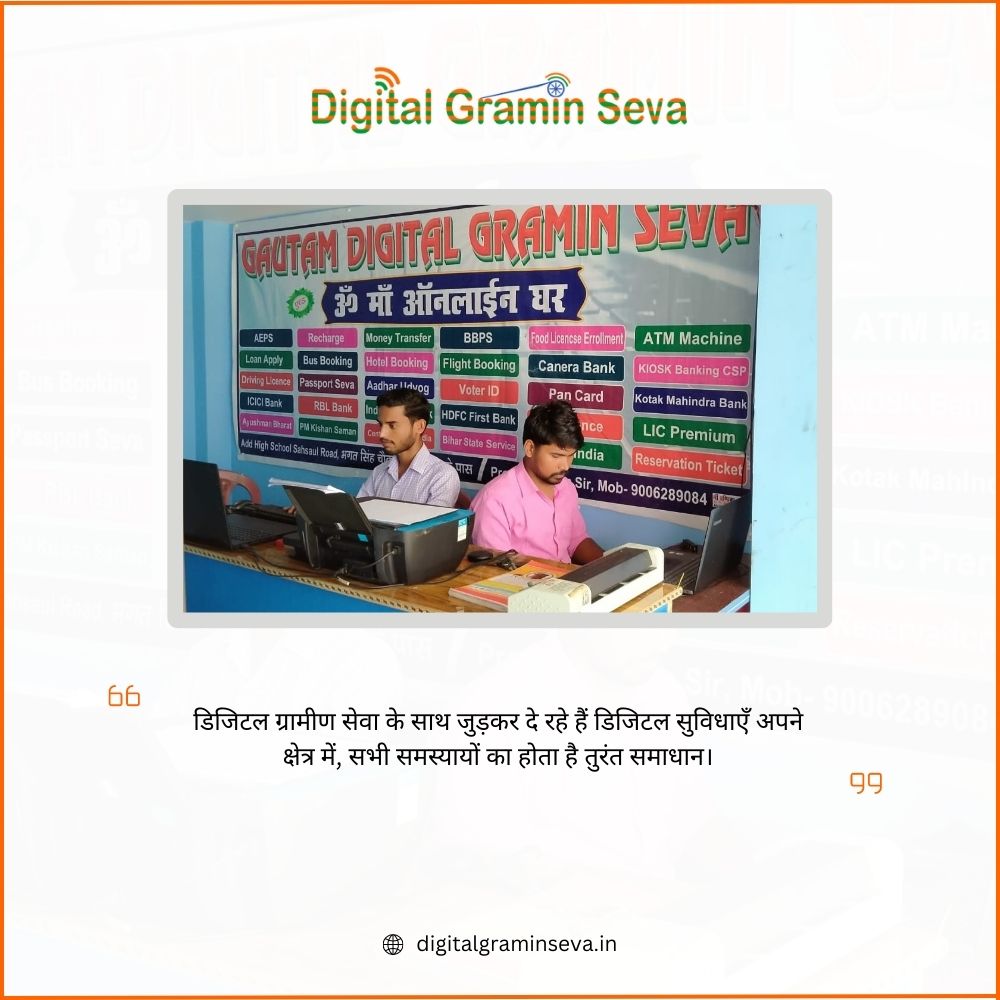 Digital Seva Portal - Digital Seva Services is One Stop Solutions for All
Digital Seva is the word "Digital" and refers to a platform where Digital technology is utilized to provide a wide range of services to the citizens.
We bridge the gap between rural and urban areas by offering all essential services related to banking, financial services under one roof.
"Seva" means selfless service or assistance.
Digital Seva or Digital Seva Portal is commonly known as CSC ( Common Service Centers).
The initiative has been taken by the government. We provide a wide range of government and nongovernment services to citizens through digital means.
These services include bill payments, recharge facilities, documents corrections and updating and verification services, and access to various govt schemes, loans, etc.
We aim to provide services to the citizens of India and make it more accessible, convenient, and efficient to utilize all the services through the use of digital technology and online platforms easily and instantly.
We offer services that are user-friendly to our customers. The services include banking, bill payments, government registrations, tax filing, GST, correction and updating in Aadhar cards, balance checks, and even travel bookings can also be made easily.
Such as booking tickets for buses, trains, flights, and hotel accommodations as well in advance to avoid last-moment hassles and delays during the trip.
We provide all these services online for our customers. Our vision is to bring together the convenience of digital solutions and the empowerment of local retailers.
We also help in generating more employment opportunities for the citizens by providing required pieces of training and offering to join us and become a franchise partner as well.
Digital Seva services and facilities
We provided to the citizens of India as a one-stop solution to people is discussed in detail under –
1. Banking Services – We offer services to bring banking closer. Open a New Bank account, deposit or withdraw money, cash deposit, Aadhar Pay, AEPS, CSP Banking, Demat Account, Loan Apply, Mini ATM, Credit Card Apply, UPI QR Collections, etc.
New bank account – We offer the process of opening a new bank account, with convenient online application submission and document verification, ensuring swift and hassle-free account creation seamlessly.
Money Deposits and Withdrawals: We effortlessly manage the funds through our platform, enabling secure and user-friendly options for depositing and withdrawing money, ensuring your financial transactions are smooth and efficient.
Cash Deposit Services: We offer to avail the convenience of depositing cash into your account at our branches or designated locations, offering a safe and efficient method to increase your account balance.
Aadhar Pay Integration: With the ease of Aadhar Pay integration, we allow you all to make swift and secure payments using your Aadhar-linked account, enhancing your payment options.
AEPS (Aadhar Enabled Payment System): We help to utilize AEPS to perform secure and quick financial transactions like balance inquiries, fund transfers, and more, leveraging your Aadhar-linked account for seamless banking activities.
Loan Application: We assist in the loan application process, allowing you to apply for various types of loans online, with streamlined documentation and quick approval procedures for your financial needs.
Credit Card Application: We assist in applying for credit cards effortlessly through our platform, benefiting from a simplified application process, attractive offers, and a range of card options tailored to your financial preferences.
2. B2C Services – These services include – Mobile recharge, DTH recharge, Electricity Bill Payments, Water bill payments, Gas Bill Payments, FASTAG, Municipality Bill payments, LIC bill payments, etc.
Mobile Recharge: we provide the convenience to enjoy mobile recharge services, allowing your mobile phone to be recharged effortlessly, ensuring uninterrupted connectivity for your communication needs.
DTH Recharge: We make sure to seamlessly recharge your Direct-to-Home (DTH) services, ensuring uninterrupted access to your favorite television channels and entertainment content.
Electricity Bill Payments: No more standing in long queues! We help to easily settle your electricity bills online, ensuring timely payments and uninterrupted power supply to your home or business.
Water Bill Payments: Pay the water bills through online payment options, ensuring a consistent water supply for your domestic or commercial requirements.
Gas Bill Payments: We make sure to pay the gas bills online, ensuring the seamless functioning of your gas connection for cooking and heating needs effortlessly.
FASTAG Services: we assist in experiencing hassle-free toll payments with our FASTAG services, enabling smooth passage through toll booths and reducing travel time.
Municipality Bill Payments: It also helps in simplifying civic responsibilities by making online payments for municipality bills, contributing to the maintenance and development of your local community.
LIC Bill Payments: We offer and ensure timely payments for the Life Insurance Corporation (LIC) policies through our platform, providing financial security for you and your loved ones and bill payments such as insurance premiums, taxes, and more, ensuring a seamless and organized approach to managing your financial commitments.
3. G2C Services – We offer Aadhar updates, Aadhar Udyog, State Certificate, Labour Card, Driving Licenses, Passport, Aadhar Center Apply, E-Shram Card, Ration Card, PM Kishan scheme, Voter Id New, Voter Id Correction.
Aadhar Updates: Seamless updates to your Aadhar information, ensuring accurate and up-to-date records for official purposes, with a user-friendly process for effortless modification.
Aadhar Udyog: Aadhar-based business registration, streamlining the process of obtaining necessary licenses and permits, promoting ease of doing business.
State Certificate: Hassle-free issuance of state certificates, simplifying administrative procedures and ensuring prompt delivery of essential documents.
Labour Card: Efficient application and issuance of labor cards, facilitating formal recognition and benefits for workers in various sectors.
Driving Licenses and Passports: Simplified application and issuance processes for driving licenses and passports, enhancing accessibility to crucial identification and travel documents.
E-Shram Card: Effortless acquisition of E-Shram cards, providing workers with digital identification and access to various social security schemes.
Ration Card: Streamlined issuance and management of ration cards, ensuring equitable distribution of essential commodities to eligible beneficiaries.
PM Kishan Scheme: Seamless enrollment in the PM Kishan scheme, ensures efficient disbursement of financial assistance to eligible farmers.
Voter ID New and Correction: Simplified application and correction processes for obtaining or amending voter ID cards, promoting citizen engagement in democratic processes.
GST Registration: Effortlessly initiate the process of GST registration, ensuring compliance with tax regulations and enabling businesses to legally operate within the GST framework.
GST Return Filing: Seamlessly submit GST returns, allowing businesses to report their tax liabilities and claim input tax credits by GST guidelines.
TDS Return Submission: Hassle-free submission of TDS returns, ensuring accurate reporting and depositing of tax deductions made on various payments.
FSSAI Registration: Streamlined registration with FSSAI, ensuring adherence to food safety standards and legal requirements for food-related businesses.
Income Tax Compliance: Efficient management of income tax obligations, including filing returns and fulfilling tax liabilities by income tax regulations.
TAN Registration: Simplified registration for Tax Deduction and Collection Account Number (TAN), facilitating lawful deduction and collection of taxes at source.
4. Travel Services – We offer travel booking arrangements which include – bus, train, flight, and hotel accommodations services. 
Bus Travel: Effortlessly secure bus travel arrangements, ensuring convenient and comfortable journeys to various destinations, with options ranging from local routes to long-distance travel.
Train Reservations: Seamlessly book train tickets, providing a reliable and efficient mode of transportation, allowing passengers to traverse diverse landscapes while enjoying a cost-effective travel experience.
Flight Bookings: Easily make flight reservations, offering swift and global connectivity for travelers to reach distant locations with speed and convenience, enhancing travel options for both domestic and international destinations.
Hotel Accommodations: Streamline hotel bookings, enabling travelers to find suitable accommodations that match their preferences and budget, ensuring a relaxing and enjoyable stay during their journeys.
Hence, From Aadhaar updates to government scheme enrollments.
We foster a seamless bridge between citizens and vital services with a commitment to provide efficiency, accuracy, and inclusivity in every transaction and aim.
At empowering individuals and communities. and, the Digital Seva Portal continues to pave the way for a more connected, streamlined, and empowered society.
Digital Seva Portal Registration 2023 - Get ID & Password Instant